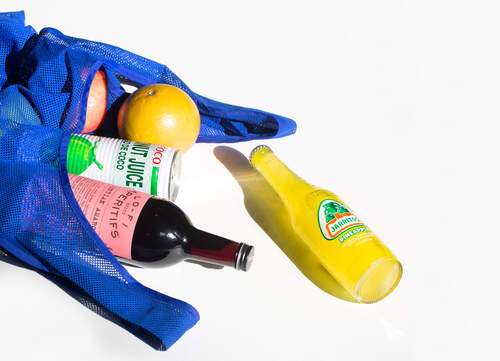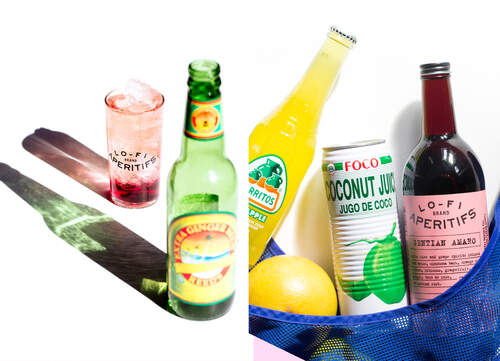 5 BODEGA BUYS: 5 DELICIOUS DRINKS
You don't have to go far to enjoy delicious cocktails and if your home bar is stocked with Lo-Fi, you may not even have to venture past the edge of your street. Lo-Fi Vermouths and Amaro are all wine-based and infused with a wide range of botanicals, making their complex flavors a perfect match for simple juices and sodas that you can pick up just about anywhere. So while you're stacking the counter high with crinkle-cut chips and honey buns, add on a few of these staples and you'll always have an easy cocktail ready to pour in your refrigerator.
THE SHOPPING LIST:
Pineapple Soda
Tonic Water
Coconut Water
Lager
Ginger Beer
THE RECIPES:
1. WINE-APPLE
2 oz Lo-Fi Sweet Vermouth
Top with pineapple soda
Lime wheel
Build over ice in glass and lightly stir to mix. Garnish with a lime wheel.
2. FOGGY EYES
2 oz Lo-Fi Dry Vermouth
Top with tonic water
Olive garnish
Chill ingredients. Build in a glass. Garnish with olive.
3. LO-FI CUP
2 oz Lo-Fi Gentian Amaro
Top with ginger beer
Lime wedge
Build in a collins class over ice. Top with ginger beer and garnish with lime wedge.
4. HIGH POINT
2 oz Lo-Fi Sweet Vermouth
Top with coconut water
Build over ice in glass and lightly stir to mix.
5. LO-LIFE
1 oz Lo-Fi Gentian Amaro
1 lager beer (bottle or draft)
Pour Lo-Fi directly into beer.
Lo-Fi Aperitifs Sweet Vermouth 750ML
Aromatic, layered, and full of spice, this vermouth is bright on the front with hints of rhubarb, cocoa, and vanilla. Its sweet, creamy finish is balanced out by oak and pleasing bitter notes from gentian root and orange oil bitters. It's made with flavors of citrus fruits, ginger, exotic flowers and spices, & cinchona bark. Pairs with straight bourbon, rye whiskey and other flavorful spirits.
Lo-Fi Aperitifs Gentian Amaro 750ML
Predominant aromas of sweet citrus fruit with hints of ginger, exotic flowers and spices are supported by a framework of cinchona bark and bitter root extracts. Adds refreshing fruit flavors and crisp bitterness to a variety of cocktails. Pairs especially well with sparkling wine and aged spirits. Pairs with sparkling wine, bourbon, rye whiskey, and spirit forward cocktails.