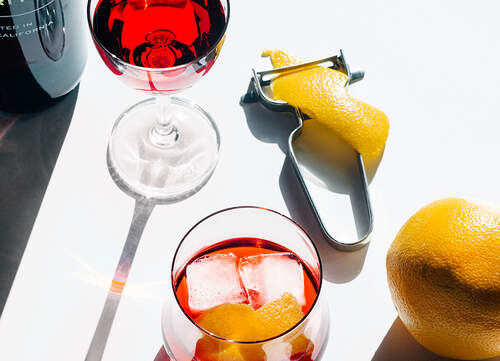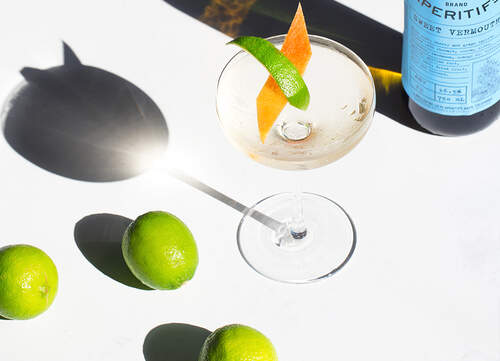 There's a reason behind every wheel and wedge resting on the rim of your glass. When it comes to cocktail garnishes, there's much more than meets the eye. These guys imbue juice, oils, and aromatics that can either make or break a recipe. Follow these tips and tricks to ensure you're complementing your cocktails correctly:


Twists & Peels
If you're solely looking for aromatics, then a peel expressed over the top will do the trick. Squeeze the peel over the surface of the cocktail, rub the rim of the glass, and either drop the peel into the glass or discard. When cutting peels and twists, try to skin the fruit without digging too deep into the pith. The pith is the white part, just under the zest and it's super bitter. For Manhattans and Old Fashioneds, we suggest using an orange peel with bourbon, and a lemon peel with rye whiskey. It does well to complement the spirits and conveniently separates the drinks visually.

Fresh Herbs
Fresh herbs add a layer of complexity to cocktails that's hard to beat, but like all garnishes, freshness is key. Make sure the herbs you're using are full, lively, and free of brown spots. Never pulverize herbs in the glass - they express bitter flavors. A gentle press with a muddler, or a quick slap to release the aromatics will suffice.

Cherries
If the cocktail calls for a cherry, stand clear of the brightly dyed cherries. They're chemically processed and packed with artifical flavors that will not lend any valuable flavor to the cocktail. Try using real brandied cherries for the perfect balance of sweetness, flavor, and a natural pop of color.

Wedges & Wheels
Wedges should only be used on drinks if they're intended to be squeezed in. Think of them as being a dual purpose garnish - they decorate the glass and also enable you to tailor your drink to your liking. If you're only looking to make a cocktail more attractive, use a wheel so that the balance of the drink doesn't get altered.
Lo-Fi Aperitifs Sweet Vermouth 750ML
Aromatic, layered, and full of spice, this vermouth is bright on the front with hints of rhubarb, cocoa, and vanilla. Its sweet, creamy finish is balanced out by oak and pleasing bitter notes from gentian root and orange oil bitters. It's made with flavors of citrus fruits, ginger, exotic flowers and spices, & cinchona bark. Pairs with straight bourbon, rye whiskey and other flavorful spirits.
Lo-Fi Aperitifs Gentian Amaro 750ML
Predominant aromas of sweet citrus fruit with hints of ginger, exotic flowers and spices are supported by a framework of cinchona bark and bitter root extracts. Adds refreshing fruit flavors and crisp bitterness to a variety of cocktails. Pairs especially well with sparkling wine and aged spirits. Pairs with sparkling wine, bourbon, rye whiskey, and spirit forward cocktails.
Lo-Fi Aperitifs Dry Vermouth 750ML
Clean, crisp and complex, hints of elderflower mix with a spicy flavor on the palate and fresh fruit from the wine base. It's made with flavors of gentian root and orange oil bitters. Pairs with bourbon, rye whiskey, gin, & tequila.