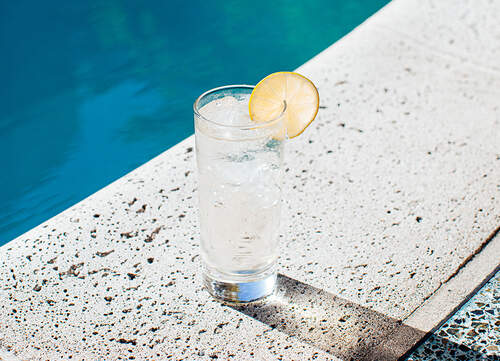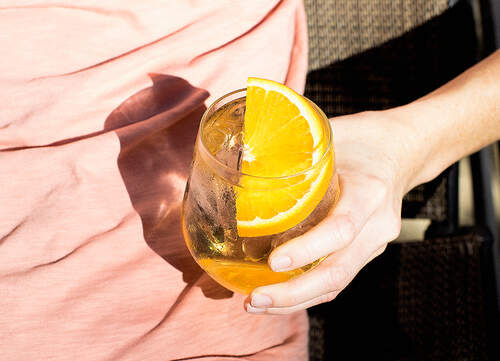 THE LO-FI GUIDE TO LOW ABV COCKTAILS
Spritz? Shandy? Shim? There are all kinds of low-ABV cocktails that go by many names, but the best ones have a few key elements in common. First off, they're not too sweet. A good low-ABV cocktail isn't overpowering and typically leans toward subtle flavors and an overall light, dry, or crisp profile, resulting in a refreshing drink.

They often contain bubbles (whether they're from sparkling wine or simply soda) and/or aperitifs like Lo-Fi. Aperitifs are designed to open up the appetite, and contain less alcohol than your typical base spirit.

This appetite-priming quality makes low-ABV cocktails perfect for daytime occasions — especially those involving food and friends. It's less about the cocktail and more about the vibe.

Brunch, lunch, and happy hour (we prefer "Aperitif Hour") are where the low-ABV cocktail shines, as these drinks pair well with food. The simplicity of the low-ABV cocktail brings the pleasure of socializing to the forefront, letting you enjoy great food and conversation without having to make a complicated drink for your guests

One of our favorite low-ABV cocktails is the spritz. A common sight in European cafés during aperitif hour, the spritz has recently gained popularity in the US, with some bars and restaurants even dedicating a whole section of the menu to these sparkling drinks.

The Lo-Fi Spritz makes it easy: 3 steps, 3 ingredients, one perfectly simple cocktail. Mix and match Lo-Fi variants, sparkling wine, and garnishes to create your ideal spritz.

1. In a wine glass over ice, add 2 oz of Lo-Fi (Sweet, Dry, or Gentian),
2. Then 3 oz of sparkling wine (Champagne! Prosecco! Rosé! Vinho Verde! The choice is yours, just keep it dry and bubbly)
3. Top with 1 oz of soda and your choice of garnish.

Want to start with one of our favorites? Try a Lo-Sé Spritz: 2 oz Lo-Fi Gentian, 3 oz Sparkling Rose, 1 oz soda, garnished with a slice of grapefruit.
Lo-Fi Aperitifs Sweet Vermouth 750ML
Aromatic, layered, and full of spice, this vermouth is bright on the front with hints of rhubarb, cocoa, and vanilla. Its sweet, creamy finish is balanced out by oak and pleasing bitter notes from gentian root and orange oil bitters. It's made with flavors of citrus fruits, ginger, exotic flowers and spices, & cinchona bark. Pairs with straight bourbon, rye whiskey and other flavorful spirits.
Lo-Fi Aperitifs Gentian Amaro 750ML
Predominant aromas of sweet citrus fruit with hints of ginger, exotic flowers and spices are supported by a framework of cinchona bark and bitter root extracts. Adds refreshing fruit flavors and crisp bitterness to a variety of cocktails. Pairs especially well with sparkling wine and aged spirits. Pairs with sparkling wine, bourbon, rye whiskey, and spirit forward cocktails.
Lo-Fi Aperitifs Dry Vermouth 750ML
Clean, crisp and complex, hints of elderflower mix with a spicy flavor on the palate and fresh fruit from the wine base. It's made with flavors of gentian root and orange oil bitters. Pairs with bourbon, rye whiskey, gin, & tequila.