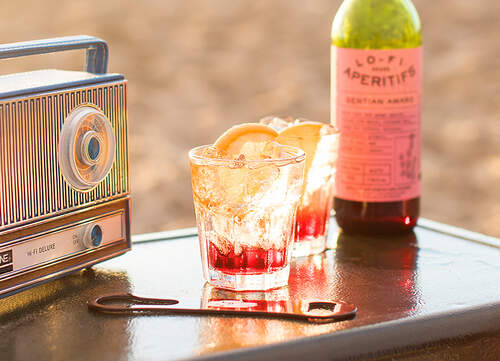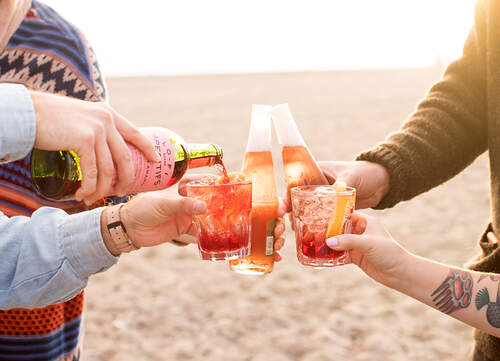 It's safe to say that everybody and their Italian brother has heard of (if not sipped on) an amaro. Since the quintessential Italian herbal liqueur found its way to the US from Europe, it's become a cocktail menu essential, featured in classics from the Negroni to the Americano to the brunch table staple sipper itself – the Spritz.

Despite that popularity, the modern American drinker can find the idea of mixing a drink with the (traditionally) bitter liqueur at home a bit intimidating.

Don't freak out. The following three no-brainer Lo-Fi Gentian Amaro serves prove that adding pink to your drink is a lot easier than you may…ahem…think.
Lo-Fi Spritz

Perfect for: your mother, who just learned what a Spritz is.

Pink and bubbly are flavors, right?

If there's a cocktail classic for every taste, it's the Spritz. Light, refreshing, and low ABV, the bittersweet, floral hibiscus notes of Lo-Fi Gentian Amaro are lengthened by prosecco, intensified by added carbonation, and brightened by a citrus garnish for a laid-back, all-American take on an Italian classic, no fancy European vacation required.

Recipe:
2 oz sparkling wine
2 oz Lo-Fi Gentian Amaro
Splash of soda
Grapefruit slice garnish
Build in a white wine glass over ice and garnish with a grapefruit slice.
Pink Beer

Perfect for: your craft beer-loving brother

The addition of Lo-Fi Gentian Amaro to a nice light lager is enough to break anyone out of their same-old, same-old beer routine.

With its bittersweet and juicy character, Amaro pairs well with the malty, caramely flavor of most lagers. Pro tip? For a drink that will have you seeing (and sipping!) pink, start with the recipe below and adjust the ratio to your taste.

Recipe:
1 oz Lo-Fi Gentian Amaro
1 lager beer (bottle or draft)
Pour Lo-Fi directly into beer.
Lo-Fi Aperitifs Sweet Vermouth 750ML
Aromatic, layered, and full of spice, this vermouth is bright on the front with hints of rhubarb, cocoa, and vanilla. Its sweet, creamy finish is balanced out by oak and pleasing bitter notes from gentian root and orange oil bitters. It's made with flavors of citrus fruits, ginger, exotic flowers and spices, & cinchona bark. Pairs with straight bourbon, rye whiskey and other flavorful spirits.
Lo-Fi Aperitifs Gentian Amaro 750ML
Predominant aromas of sweet citrus fruit with hints of ginger, exotic flowers and spices are supported by a framework of cinchona bark and bitter root extracts. Adds refreshing fruit flavors and crisp bitterness to a variety of cocktails. Pairs especially well with sparkling wine and aged spirits. Pairs with sparkling wine, bourbon, rye whiskey, and spirit forward cocktails.
Lo-Fi Aperitifs Dry Vermouth 750ML
Clean, crisp and complex, hints of elderflower mix with a spicy flavor on the palate and fresh fruit from the wine base. It's made with flavors of gentian root and orange oil bitters. Pairs with bourbon, rye whiskey, gin, & tequila.